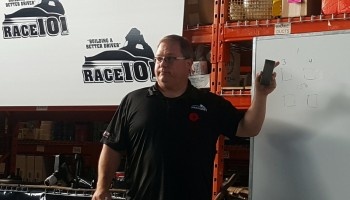 On Saturday, November 11, 2017, Grisdale Racing Products hosted the first ever RACE 101 seminar held outside of North Carolina.
RACE 101 founder Tony Blanchard held court for the entire day sharing his knowledge with a full house of racers. Attendees traveled from as far as Sault Ste. Marie, Ontario, and Columbus, Ohio, and they were treated to a full day of information.
When the seminar broke for a Remembrance Day ceremony just prior to 11 am, it was clear the break was welcome to most of the eager learners.
Blanchard started RACE 101 as an educational program where young racers from all over North America converged in Denver, North Carolina, for weekend sessions throughout the year. The first class graduated in 2010, and the school continued for years until Blanchard returned to the race track.
Saturday's seminar was the first of what should be many opportunities for interested racers to learn the fundamentals of chassis set up and techniques.
For more information on when the next RACE 101 seminar will come to Grisdale Racing Products stay tuned to our Facebook page, or call and ask anytime at 1-800-561-1791. If you would like to email any questions or comments you can email adamross@grisdale.com.